Best Twitter Marketing Services
Twitter boasts of over 300 million unique visitors every month. If you want to take advantage of all those visitors, SocialLyk is the place to be. Many companies, especially B2B, perceive that Twitter's real-time engagement is ill-suited to their business model. However, do not be fooled; Twitter offers a great platform to interact with your customers and promote your products. To stand out, however, you need to be producing eye-catching content and engaging your audience continually. Although this might work, it's not guaranteed. So, what measures do you take to make sure your Twitter campaigns are a success?
To be on the right track, you need Twitter marketing specialists; and with SocialLyk, you can never go wrong. Our team goes above and beyond to ensure your campaigns are well prepared, and the results match your expectation with our customer-based approach. Twitter campaigns are a step in the right direction; moreover, choosing SocialLyk is taking the first step in the right direction.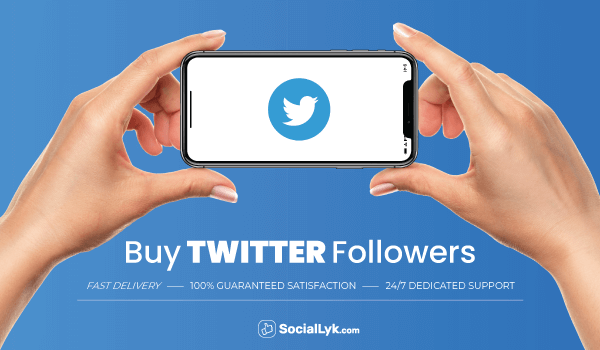 Buy Twitter Followers
The thing that stands out about Twitter is that anyone can be successful. Although you never know what to expect with marketing campaigns, having a team behind you will go a long way in helping you achieve your goals. Choosing a partner that will go the extra mile to guarantee you get what you paid for is no walk in the park. We understand that you need new Twitter followers and are desperately trying to outdo your competition. We are here, and we've got your back. At SocialLyk, we generate Twitter followers that will amaze you in the shortest time possible. If you are confused about what campaign you should work on, Twitter followers from SocialLyk should be the first thing that comes to mind.
Buy Twitter Retweets
Are you worried that you are not getting enough retweets on your Twitter posts? Do you feel like your posts deserve more retweets? Well, they do, and you must do something about it. Although most people assume retweets are not essential, the Twitter algorithm ranks retweets very highly
You are probably aware that retweets rule Twitter, and you also know that getting retweets is not easy. What if we told you we could help you with that? How would you feel waking up to a thousand new retweets? All this is possible with SocialLyk. Retweets are known to attract more followers to your account. And the more followers you have, the more retweets you can gather. Once you buy Retweets from us, you can say goodbye to your posts lacking retweets.
Buy Twitter Likes
Twitter likes act as a sign of endorsement from your audience. If people can take their time and like your content, you are probably doing something right. But, what happens when you post your content, and nobody bothers liking. That can be devastating, right? Lacking likes is treatable. And like any disease, you need to consult a professional. SocialLyk is the number one stop for everything Twitter. Our team is made up of Twitter specialists who have processed hundreds of Twitter campaigns. If you are ever in doubt about investing in likes, you can always reach out, and a team member will gladly assist you.
Buy Twitter Video Views
If you are still unsure about which social media platform to use for your marketing campaigns, Twitter should be at the top of your list. So, you've decided you will use Twitter, the next challenge is how you will do it? The one thing you should know is that videos are a proven technique that attracts more people to your profile. Whenever you post an engaging video, chances are, people will watch it. However, that's not guaranteed. Your videos might get no views at all, and that's not what we want now, do we? What we do at SocialLyk is get you the views needed to scale your videos to an even greater audience. We supply views from relevant accounts that attract even more people to your content. We want the best for you, and we'll make sure you get the best.